To:

Australian Government
BAN "LIVE EXPORT"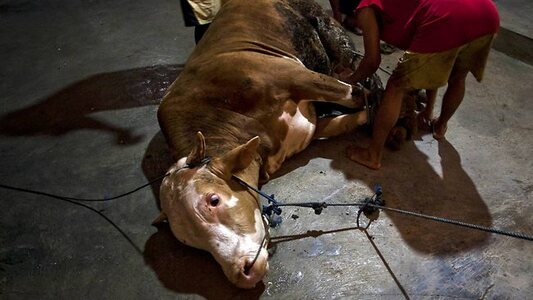 To The Australian Government ,
Every year millions of Australian animals are exported live for slaughter. Those who survive the journey often endure brutal treatment and conscious slaughter.
Cattle, sheep and goats are sent throughout the Middle East and South East Asia — to countries with no laws to protect them from cruelty. Tens of thousands of animals don't survive the sea journey and those that do disembark into countries where they are transported, handled and then slaughtered in appalling ways. Most animals slaughtered overseas have their throats cut while they are fully conscious, leading to an incredibly painful and prolonged death.
Since 2003, numerous investigations into the treatment of animals exported from Australia have been conducted. The evidence from investigations in the Middle East and South East Asia has consistently revealed the willingness of Australia's live export industry, and consecutive Federal Governments, to export live animals despite appalling cruelty in importing markets.
APPEAL TO THE AUSTRALIAN GOVERNMENT TO PUT A STOP TO "LIVE EXPORT"
Why is this important?
Because producers, politicians and the community are being deceived by an industry that puts profits over ethics and welfare. After nearly 20 years in Egypt and 18 years in Indonesia, investigations have repeatedly revealed that all the live export industry has done is endorse the use of brutal slaughter devices, condone un-stunned slaughter and ignore the cruelty that inevitably results.