To:

Newcastle City Councillors
Help Protect Local Parks For Future Generations
Council voted last night to save Regent Street Park, as well as two other local pocket parks.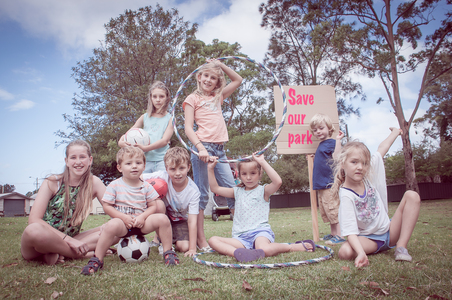 Dear Newcastle City Councillors,
Please do not allow our local Regent Street Park (149 Regent Street, New Lambton) to be reclassified and sold off for development. This park provides our neighbourhood with a safe place for recreation and socialising, and represents the centre of our small community. This park, along with the other small parks in the Newcastle area including New Lambton Heights South Park which is also under threat, need to be protected for future generations.
Why is this important?
When my husband and I first moved into the area almost two years ago, as a mum and dad of two small children aged two and four, it was lovely to know that we would live very close to a little park called Regent Street Park.
When we moved we did not know our neighbours, or have any support network in the nearby area. However soon after moving we met our first neighbours who came to say hello and welcome us to the area. They had spotted us running about playing ball in the park with our kids. Since then we have been welcomed by a wonderful little community - and at the heart of this community is our local park.
Our local park has become the place we play outdoors with our kids, have a picnic lunch outside or go looking for bugs and birds. Others use the park for exercise, a dad throwing a ball in the park each week with his teenage boy, a social game of footy, a place to practice your golf swing, others meet here with their dogs.
Each year the park hosts our Christmas Party. Santa arrives with a sack of presents for the neighbourhood kids. The park has also seen its fair share of birthday cake.
Some of the neighbourhood kids now are getting a little older and they are allowed to go to the park themselves (mums and dads can sneakily peer over the fence) - a big adventure that would not be afforded to these kids had they only the larger park some distance away and across a main road. The older generation across the street watch them and muse to us parents about the changing generations they have watched come and go from the park over the years, and its makes me sad to think this part of the community could be lost for future generations however small and insignificant to others it may seem.
Now most Friday neighbors meet in the park to talk about our week - an opportunity to leave our houses and small backyards. Two weeks ago thirtyish of us sat in the park and ordered pizza – one of the neighbourhood Mums with four kids had had a busy week whilst her husband was away working, for her the evening was an opportunity for the sanctity of friendship and a listening ear. Three of the bunch have recently emigrated from England and China. For them this time, this space, really does matter.
I know our little park is just that - a little local park. It does represent the centre of our community, something which is increasingly important in urban environments, something I want my children and other children to experience. This small green space, this park, is important to our community.
There are five other areas of land in the Newcastle locality, which in most cases are being used as parks by local residents, which are up for reclassification and potential future sale and development. Please encourage Newcastle city councillors to recognise the importance of these small parks, and sign the petition to save them.