To:

West Australian Goverment
Stop The Bunbury Marina ! Protect the Dolphins of Koombana Bay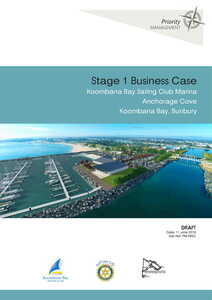 To conduct a proper EPA and Environmental study on the impact human interaction, marine traffic, and the construction of a 200 berth Marina will have upon the dolphins that populate Koombana Bay.
Koombana Bay is one of but a few locations wild dolphins birth in Western Australia. Murdoch University has conducted studies involving more than 10 years of systematic data collection which have shown the local population is in decline and facing additional pressures of the port expansion and increased boat traffic.
In light of these recent reports. I wonder what impact the again proposed Marina by the Koombana Bay Sailing Club might have. The Sailing club has once again launched yet another proposal to construct a marina, not 800m from the Dolphin discovery center. Despite this only being a proposal, it is interesting that it suggests completion of a 200 berth marina by the year 2021. In the 105 page document the club has released to members 11/5/2019 as a Stage 1 Business Case, and as states a preliminary investigation only. The Business case timeframe suggests completion by 2021, and to have Environmental approvals completed by December this year. This is despite no actual funding's being listed for Environmental Impact studies. This is also despite the Business Case stating that without Environmental Approvals being granted, the project would be flawed.
What also surprises me, is the proposal also contains a letter of support from David Kerr, CEO of the dolphin discovery center, the same Man who is the Chairman of the Bunbury Marine Alliance, which supports the establishment of a marine industry and marine infrastructure.
Mr Kerr, is facing questioning regarding environmental issues already facing the dolphin populations of Bunbury waters, and has yet to comment, nor face these questions.
Now he is also publicly supporting the construction of a 200 berth Marina, to be built 800m from the newly constructed Dolphin Discovery Centre. The center that has been established for the education, research and conservation of Bunbury's wild dolphin population and marine environment.
Ding Dong, hello! Am I missing something?
Here we have the CEO of a center established to protect the wellbeing of Dolphins, openly supporting a marina that is yet to conduct environmental impact studies 800m from the same center!
Yet scientific reports are clearly showing that dolphins are dying because of the direct impact of human interactions.
You be the judge. Does this seem right?
I think not!
Why is this important?
Protection of the environment and the waterways, the wild population of Dolphins populate in Koombana Bay. The numbers of dolphins have been decreasing as a result of human interactions in Koombana Bay already. What impact will a Marina have upon them should it be constructed?