To:

Moreton Bay Regional Council
SUPPORT OPTION G WEST PETRIE BYPASS OR HAVE A 4 LANE ROAD AT YOUR DOOR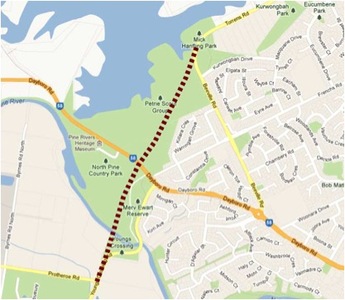 Dear Moreton Bay Regional Councillors, I agree with your unanimous decision to support Option G West Petrie Bypass. This is a critical Regional issue for all residents and you as our elected representatives.
With Option G West Petrie Bypass I understand the bridge span over the North Pine River would deliver a direct non stop bypass through the area with 80kph speed and no traffic lights. It would prevent water back up, surrounding properties will not be flooded. It is great to hear that the bridge across Sideling Creek would be of sufficient size not to affect wildlife or property in the area as the wildlife corridor would be preserved underneath the high bridge.
I believe that this is the only viable option to avoid a requirement for numerous sets of traffic lights, a division of the French's Forest, North Pine and Petrie on Pine residential developments.
Now with the volumes of traffic that are travelling from the Northern part of Moreton Bay Regional Council and beyond, to travel down Beeville Road, Andrew Petrie Drive and then through a residential area and Tweedale Reserve, with many sets of traffic lights, noise and air pollution, time and wear and tear on vehicles - this would not be supported by local residents or the majority of the travelling public.

The Pine Rivers Bridge at the entrance to the Gateway has traffic backlogging for some kilometres. All that is required on that road is an accident and the traffic then has to find alternate routes which is generally the option to travel down Anzac Ave or Beeville Road to Youngs Crossing.

To date it appears that the majority of residents are only hearing one side of the story and if they understood the implications if Option B was to go ahead there would be nothing but frustrated drivers and residents.

I fully support the Moreton Bay Regional Council's decision to propose Option G West Petrie Bypass.
Why is this important?
How it will be delivered
Sign the petition electronically on the right. Send a copy of the email to your friends and ask them to sign as well to support the council in their decision. Make sure everyone on your household individually signs up!
We will email the petition, deliver the signatures in person and also hold a community group meeting and invite local councillors and our local MP.