To:

Hitaf Rasheed, Executive Director, Events SA
Tour Down Under - #BreakAwayFromGas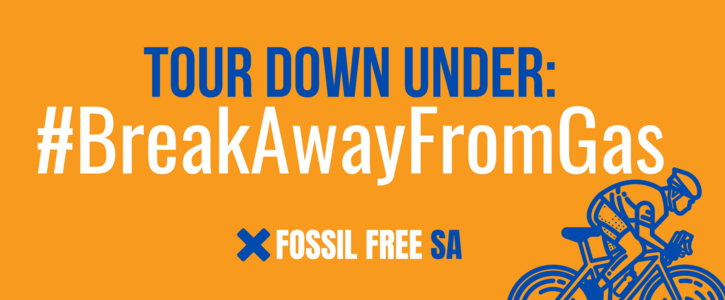 The Tour Down Under is an impressive event which showcases South Australia to the world and boosts local economies. However, it is appalling that a major cycling event, held in a state which is a leader in renewable energy, is being sponsored by polluting fossil fuel company Santos.
We urge Events SA to seek a new naming rights sponsor for the Tour Down Under 2023, one that has no association with fossil fuel companies, or the financial institutions that support them.
Why is this important?
While the ever-expanding oil and gas operations of Santos may have been necessary in the past, this is no longer the case. The 2018 International Panel on Climate Change report makes a clear scientific case - fossil fuel extraction and use must be rapidly phased out in order to limit global warming to 1.5 degrees.
Santos must change gears, BreakAway from gas and sprint towards clean technologies such as green hydrogen. However the company shows no sign of changing its climate damaging business model and remains intent on expanding oil and gas exploration, including controversial fracking projects, while pushing unproven non-solutions like carbon capture and storage (CCS).
We understand the current sponsorship arrangements with Santos are in place until 2022. We urge Events SA to seek new green sponsors for the Tour Down Under 2023. Only then will it be an event that South Australians can be truly proud of.