To:

The Hon. Anthony ALBANESE The Hon. Chris BOWEN, The Hon. Meryl SWANSON, The Hon. Daniel Repacholi, The Hon. Pat Conroy, The Hon. Tanya Pilbersek.
Scrap Kurri Kurri Gas Plant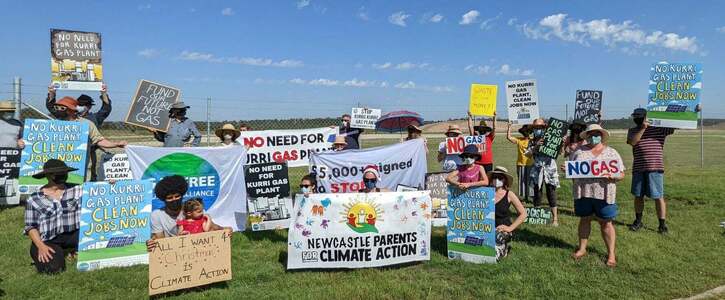 The new Labor Government agreed to support the Kurri Kurri gas plant only if it could be built to run on a green hydrogen blend from commencement. But now leading gas analysts are saying that won't be viable.
The Labor Government should stay true to their word, listen to thousands of local people, and spend that money instead on battery storage or retraining locals to better prepare us for when power stations close.
Our message to Labor is that if the Kurri Kurri plant can only run on gas, then it shouldn't be built at all.
Why is this important?
The Kurri Kurri gas plant is a waste of public money. It's expensive, climate polluting, and it fails to deliver the long-term jobs that were promised to the local community.
Right now it's planned to run on gas, a fossil fuel that contributes to worsening floods and fires caused by climate change. The new Labor Government promised to support the project on the condition that it ran on 30% hydrogen from the day it is operational and 100% by 2030. But energy experts are saying that this won't be possible.
The Kurri Kurri gas plant fails to deliver the long-term jobs our community was promised. We need the new government to invest long term, in the technologies of the future and not waste a billion dollars of public money and instead invest it in the Hunter to keep our region as a powerhouse for generations.
We know battery storage is a cheaper way to firm the electricity grid and bring down electricity prices for people doing it tough. It's clear too that we need to move away from climate-wrecking fossil fuels like gas and coal, and towards cleaner, cheaper alternatives like solar, wind, and batteries.
So all in all, a pretty shocking idea. But that didn't stop the Morrison Government throwing public money at the project last year.
It didn't make sense then, but it makes even less sense now. The global price of gas and coal has shot up since the start of the year, meaning new power plants that run on fossil fuels won't help bring your electricity bills down.
It would be a backward step. Our country is lucky to have huge resources of sun and wind, and backed up by batteries these resources are going to power our houses and businesses into the future with cheap, clean electricity.
We need our leaders and local MPs to see that this is the future we want for the Hunter, not expensive fossil-fuel powered plants that will soon be irrelevant. People in the Hunter deserve proper investment in jobs and industries that will be around for a long time.
How it will be delivered
We will seek meetings with the members of parliament to personally deliver the petition. If our meeting requests are not accepted we will hold events at their offices and deliver it to staff inside.
See below for the proposed site of the Gas Plant: