To:

All levels of Govt, philanthropists and investors
Save the Nicholas Building creative community!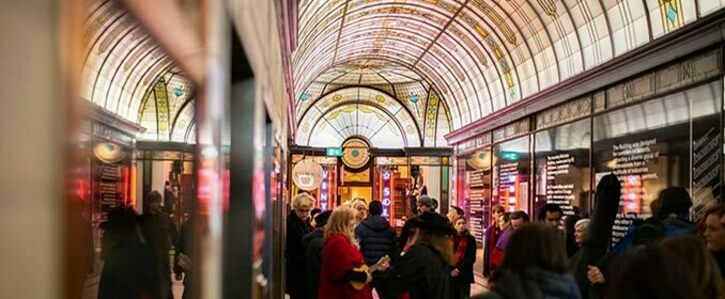 The Nicholas Building creative community is facing an existential crisis. Home to over 100 tenants covering every sector of the creative industries, the building is now for sale and there is no guarantee that new owners will continue its operation as an affordable incubator for creatives - as it has been for well over 40 years.
WE ARE ASKING FOR:
- Government, philanthropy and/or private investors to buy the building as a protected cultural asset, keeping the creative community intact.
- The Nicholas Building (Tenants) Association be enshrined as central to future building operations.
- A covenant which recognises our extraordinary contribution to the cultural and economic life of Melbourne by securing our tenancies and providing ongoing support to elevate our program of events and projects.
Why is this important?
There is no building like the Nicholas left in Melbourne. In fact you would hard pressed to find anything like it in the southern hemisphere. Seriously.
So many people have a story connected to the Nicholas Building. What's yours?
We want to keep making more experiences for all Melbournians and guests to our amazing city. Here's some facts*:
• Total cultural tourism exports for Victoria – most of which are generated out of central Melbourne – amounted to more than $2.5 billion in 2019.
• Every $1 million of investment in cultural programming and investment, including in creative spaces, in Melbourne, induces more than $4 million in additional tourism exports and supports 40 jobs.
Cultural programming and investment does not just refer to the output of major companies. One of the major contributing factors is through the incubation and provision of creative spaces for small social enterprises, artist led initiatives, artisan studios, and bespoke flexible venues. Where else is the content you experience in theatres and on your smartphone developed? Not just at home that is for sure. We need more, not less creative spaces where a critical mass of energy and collaboration turns into productivity and more cultural experience.
More facts*:
• Each permanent creative space (e.g. studio) generates a net benefit to the Melbourne and Victorian communities of $247,000. This is the present value of a stream of benefits capitalised over an indefinite period.

A quarter of a million dollars per creative studio. The Nicholas Building has over 100 such creative studios. DO the math!
But beyond the economics, it is the feeling. Coming to a Night at the Nicholas event across 10 floors you will experience live music, art performance and installations, dance parties, palm and tarot readers, VR artists painting you into an artwork, tattoo shops, weaving workshops, choirs, drinks with jewellers, forums, Australia's largest Joseph Beuys collection! The list goes on. The feeling that crowds report after these events is one of elation, ecstasy, joy and relief that the human impulse to create and share this creativity with others has a place right in the heart of the city. Where people can be immersed in the unique and diverse arts and culture. There is no other way you will get those offerings elsewhere in Melbourne. Without the Nicholas we lose our last Artist Run Initiative Galleries. These galleries have supported thousands of artists over the last couple of decades - your children, friends, parents. Most Melbournians know someone that has been supported or moved by the cultural community of the Nicholas Building. We cannot afford to lose it.
And now, as we come out of the pains of the pandemic we must support a creative led recovery. Not just on words in policy documents and vision statements from well meaning institutions. But actual investment into those people and places that already make it happen! The Nicholas Building community have done this off their back for so long. But we can no longer afford to do it on our own. Without the support of those with the power and money to stave off the imminent exodus of another 100 creative souls from our city centre we may as well stay at home and let Netflix tell us the extent of our culture.
No thanks!
--
*Data gathered from SGS Public Sector Consulting
How it will be delivered
We will stage a press conference to deliver your signatures to the people who need to hear your voices loud and clear.